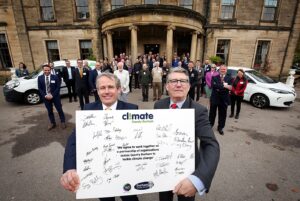 In November 2021, Durham County Council held a conference of partners (COP) where the county's organisations came together to discuss their decarbonisation actions and plans and the challenges ahead.
All those who attended were given the opportunity to sign the County Durham Climate Agreement – a pledge to work together as a partnership of organisations across County Durham to tackle climate change.
If you'd like your organisation to be part of this and access opportunities for support, such as themed workshops, you can sign up to the Climate Agreement on this page.
For more information on the county's action to tackle climate change, visit www.climatecountydurham.co.uk
Case studies
Find out how members of the Environment and Climate Change Partnership's Climate Emergency Workstream are working to reduce their carbon emissions.