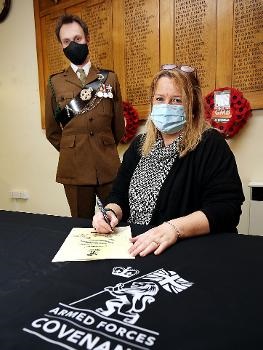 We've again pledged to support Armed Forces personnel, veterans and their families by re-signing the Armed Forces Covenant.
We first signed a localised Armed Forces Community Covenant in May 2012, promising to ensure that those who serve or have served, and their families, are treated fairly and not disadvantaged in accessing public services as a result of their military service.
Last week (16 December), we demonstrated our continued commitment to supporting the Armed Forces community in County Durham, by signing a refreshed agreement. The covenant complements the National Armed Forces Covenant, which is a promise from the nation that those who serve or have served in the armed forces, and their families, are treated fairly.
The introduction of an Armed Forces Forum encourages the council, Durham Constabulary, County Durham and Darlington Fire and Rescue Service; and the NHS to work with the armed forces, their families and charities. By working together, the forum's partners are better able to take positive measures to prevent any disadvantage to individuals.
Read more about this in the County Council's Armed Forces Community news item.